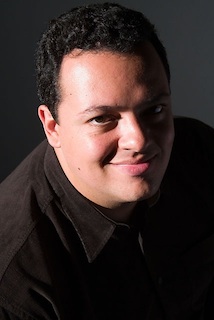 I was born in Sao Paulo, Brazil, where I made my early music education until my Studies in Composition at the University of Sao Paulo. It was also in Sao Paulo where I started my vocal studies with professor Benito Maresca. Later I moved to France, where I had the opportunity to learn from many different teachers, among them Christianne Eda-Pierre, Françoise Pollet and finally Alain Fondary.
Between
2012
and
2013
I sung the role of Melchior in Menotti's Amahl and the night visitors, in a German language production in many locations in Luxemburg and Germany.
In
2012
I took part as a chorus singer in the Bayreuth Festival, and I also sung as an extra in other Germany's opera houses choruses.
In the year
2010
I sung the role of Prosper in Offenbach's La vie parisienne, in the Folies d'O Festival in Montpellier, France.
In
2009
I made some concerts with the vocal ensemble Lyrica 12 in some French cities, a recital with opera arias in Orange, and I was Private Ryan in Offenbach's La Grande-Duchesse de Gérolstein in the Folies d'O Festival.
During
2008
I made many concerts with the ensemble Lyrica 12 in the surroundings of Montpellier, I sung Michael Haydn's Requiem, I was Un Cavaliere in Donizetti's La favorita in Montpellier's National Opera, and also Le Roi des Gitans in Lopez' La belle de Cadix, in the Folies d'O Festival.
In
2007
I sung Mozart's Coronation Mass in Montpellier, I gave many recitals accompanied by guitar in Montpellier and surroundings, another recital accompanied by piano, and I also sung Monteverdi's Sestina in Montpellier.
In
2006
I was Lieutenant O'Malley in Jule Styne's Sugar at the Montpellier's National Opera. In this same year I also sung Schumann's Dichterliebe at the Molière Hall, in Montpellier.
From
2004
to
2010
I was a permanent chorus member at the Montpellier's National Opera.
I speak fluently Portuguese, French, English, German, Spanish, Italian and I have elementary knowledge of Russian.